Creating Products and Businesses in Audio and Video Technology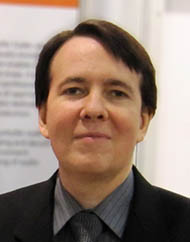 My work is envisioning, creating, and marketing new products using audio and video technologies. I'm the person who makes users say "I want that" to a new product, usually resulting in a good revenue stream to the company. A good position for me is at the VP or CTO level in a small company or Senior Director level in a large one. I think I would fit well in a Product Management, Product Marketing, or CTO role, or in cases where there is a good match to my experience, as a business unit manager.
I'm a former engineer, product manager, and now general manager who enjoys fitting technology to markets to make new products and create value. Perhaps I could help your company?
Check out my resume page, look at some samples of my work, or contact me using the menu above.
What am I good at?
I'm good at making new products using audio and video technologies. I've done this all my life. As a design engineer I ran a small company making products for video research. As a product manager, I learned how to do real market research, design business models, and specify products, either advising or leading an engineering team. Later, I learned to develop engineers into good product managers and develop business strategy. Today, I've used that experience in the development of our company's flagship product, MPEG-H, and have moved beyond creating product lines to developing new businesses.
When I and my colleagues have made a good product, and a customer sees it's value and says "I want that!", that makes all the work worthwhile. Of course, it is even more rewarding when lots of customers say that and the revenue forecast becomes reality.
What's my background?
I'm a former mixed-signal video design engineer and small consulting business owner who had the opportunity to become one of the designers of a technically successful supercomputer. I changed careers to become a product manager in the TV broadcast equipment and new media industries, where one of my products won a technical Emmy. I moved to managing a product management department for a streaming video technology provider and then ran a strategy and marketing consulting business in the streaming media industry.
Since 2007, I've worked for MP3 inventor Fraunhofer as the general manager of their audio business in the U.S., developing some award-winning new products for them, and being the leader in extending their operations in new strategic directions, such as into open-source products, automotive audio, and product certification programs. When I joined Fraunhofer, my goal was to take the company from a chaotic mix of technologies and standards from a research organization to one with products on par with our commercial competitors. It's not my work alone, and I have had to work within the constraints of the company's culture and legal status, but here are some of my contributions:
Developed MPEG-H from an MPEG codec into a commercial audio system product:

Personally invented some unique system features, turning shortcomings into features.
Challenged the company to a "moonshot" project - building a live MPEG-H-powered TV network on a trade show floor - in time for consideration for a new TV broadcast standard.

Identified Android as an important platform for us, and led Fraunhofer into a open-source software business, with our libraries handling AAC encoding and decoding for Android since 2012.
Entered the automotive industry with Fraunhofer Symphoria, now in Audi and Daimler cars.
Developed our "3d soundbar" concept, enabling consumer demand for immersive audio.
Invented the Sonnox Fraunhofer codec plug-in, widely used for mastering music for iTunes.
Designed, staffed, and administered Fraunhofer's first product certification program.
I have a full understanding of the business, technical, market, and IP landscape in audio codecs and systems, as you'll see if you look at my work samples or read my formal resume.