Robert Bleidt - Work Samples
Starting New Businesses
One of my jobs in recent years has been to identify businesses we either need or want to be in, and determine how to accomplish that within constraints of our company and the market . Here are three examples:
Transitioning Fraunhofer to an open-source model
Bringing surround sound to Android
Google explains Cingo virtual surround sound at the Nexus 7 press event in 2013.
In 2011, Fraunhofer was attempting to increase the device support for its codecs, particularly for surround sound. Convincing device manufacturers to include them was a slow process. I identified approaching Android directly as the best option for us. We had never published software under an open-source license and we could not use licenses that would break our patent licensing business model. I sold Android on the concept of including our software under a special license, and managed the extensive legal review and negotiation needed to close the deal. Support for AAC-based surround sound became mandatory on Android devices.
Today, Fraunhofer FDK software powers the over one billion active Android devices and Fraunhofer's Cingo binaural rendering provides surround sound for earphones and tablet speakers on Google-branded devices.
Product Certification
Moving Fraunhofer into trademark licensing and certification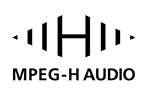 The MPEG-H Audio System Trademark (trademark of Fraunhofer IIS)
With development of the MPEG-H audio system, Fraunhofer was moving from simple codecs that could be tested in isolated products using standardized test vectors to product ecosystems that would have to inter-operate over HDMI to deliver personalized sound to consumers, precisely synchronized to video programming. We needed a testing program similar to that of our competitors, but we had no certification experience.
I developed a strategy using manufacturer self-testing and tests at third-party test centers that was compatible with Fraunhofer's legal framework, staffed and directed an engineering team to develop tests and test fixtures, and developed and licensed a trademark for our testing program, now used by manufacturers to certify their MPEG-H enabled products.
Automotive Sound
Entering OEM Automotive Business with immersive sound for cars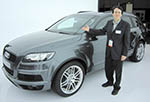 Introduction of Symphoria at the 2013 CES Show Audi booth
In 2010, a review of reviewed our internal technologies led to an interesting idea: applying upmixing techniques we had developed for home use to automotive sound. Fraunhofer had never worked in the car industry outside of supplying codecs for the in-dash radio or "head unit". I formed a small team to investigate this market and we began to quantify the opportunity. It was an interesting business for us since, like audio coding, it requires substantial technical expertise and domain knowledge and has very long product cycles. During the early years of the project, I acted as the business manager, training a product manager and developing our business strategy of direct sales to OEMs instead of as a tier-two supplier. Today, Fraunhofer Symphoria is the premium audio system for many Audi and Daimler cars, among others.
Developing New Products
Many of my contributions have been in new product development, fitting technology to markets to make something new or innovative. Here are some examples:
Creating an Immersive Audio System Product
Adapting and marketing the MPEG-H codec for TV broadcasting
Inventing unique system features
In 2013, Fraunhofer was completing its initial work on the new MPEG-H audio standard as TV broadcasters in the U.S. began to consider developing a new transmission standard, ATSC 3.0. Advanced audio features were to be a part of the new standard, and Fraunhofer wanted its MPEG-H technologies to be specified, establishing us in the American TV market long dominated by our competitor Dolby.
Unfortunately, MPEG-H was an audio codec, not a complete system for TV broadcasting. I became responsible for our TV audio system product based on MPEG-H and its marketing to the industry. I personally invented some of the system's unique features, such as the ability to splice audio bitstreams at video frame boundaries and to use standard editing software such as Premiere to edit object-based audio tracks. I also developed our strategy for transmitting the audio bitstream through HDMI connections.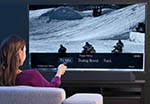 Fraunhofer 3D Soundbar Reference Design and MPEG-H On-Screen User Interface
A primary feature of MPEG-H was immersive sound - sound from above as well as around you. In 2013, this meant placing speakers around the room and on the ceiling, impractical for anyone but an enthusiast. I insisted that we develop a "3D soundbar" that would be something a typical consumer would use. At the time, only research projects with dozens of speakers surrounding a TV screen offered anything remotely close to the performance needed. Our engineers met the challenge and we showed a prototype with MPEG-H playback at CES 2016. Today, Fraunhofer licenses this technology to soundbar manufacturers.
Fraunhofer was not well known among U.S. broadcasters, and we needed a marketing campaign to convince them we could deliver a working system at a time when neither our competitors or ourselves had much more than prototypes. I proposed a moonshot: We would build and operate a complete TV network on the NAB 2015 show floor, showing how MPEG-H worked from a remote production to listening to in the home. I became the product manager leading a 120-person, 19-group engineering team to develop all the components necessary to make this demonstration work and thus have a viable product. I also recruited and staffed a systems engineering team to make the demonstration possible. As shown in the video above, we did about five years of work in two year's time, and "the world's most complex network" (carrying 13 different audio formats) was on the air at the NAB show, while our competitors showed basically slideware.
I was not responsible for our work in the ATSC 3.0 standards committees, and ultimately a compromise was reached there where MPEG-H was used in South Korea (the other country using ATSC) but not the U.S. The MPEG-H system later became the basis for the audio in China's new UHDTV standard and is being considered for a new broadcast system in Brazil.
Audio Mastering Plug-in
Sound-on-Sound Editor's Choice Award
TEC Award Nominee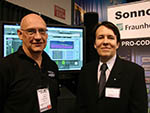 Introduction of the Plug-in at the 2011 NAMM Show, with MD of Sonnox.
In 2009, I was faced with several concerns around our AAC and HE-AAC audio codecs. We were trying to convert music and video services from offering content in MP3 (nearing the end of its patent life) to using the AAC codec family at a time when Apple's iTunes was the only AAC service. Our prospects faced a lengthy contract process to get evaluation software from us. Some recording engineers complained the quality of AAC was not good enough, and they thought AAC stood for "Apple Audio Codec". Also, engineers at this time were beginning to think about mastering a separate version of an album for iTunes distribution, instead of using what they produced for CDs.
I came up with the idea of making a plug-in (a software component loaded into audio mixing software such as Avid's Pro Tools) that would contain MP3 as well as all our AAC codecs so an engineer could hear the difference between them while he was mixing, correcting his mix to sound the best on a service using our codecs. Previously, he or she would have had to use a seperate program for this purpose, taking several minutes to hear a change. Now, he could hear an adjustment immediately. This seems a simple idea, but had never been done before. It also solved the problem that most audio mixing software had a built-in encoder for MP3, but not AAC. To silence some of the quality critics, I put in a test function (ABX) to compare a codec to the uncompressed version.
Fraunhofer was not a software supplier at the time, relying on "industrial partners" to make commercial products. I helped one of my product managers survey the plug-in market, and we selected Sonnox Ltd. to work with us. Sonnox added some good features and launched the "Sonnox Fraunhofer Pro-codec" at the NAMM show in 2011. It was nominated for NAMM's TEC award and won the 2012 Sound-on-Sound magazine editor's choice award.
Bringing Video Production to the Web
Technical Emmy Award
World's First Web-based Professional Video Editor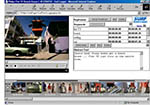 Web editor user interface
In 1999, professional video was just beginning to be stored and edited on disk-based video servers, and cataloging and finding content on them was a primitive process. I had the idea to move content logging and editing from dedicated broadcast hardware to a web-based asset management system. At the time, Windows offered the ability to play back MPEG-1 video from the web, but no way to edit content together with professional frame accuracy. I staffed an engineering team internally and we developed a solution that allowed storing time code with the video, so a journalist or editor could make a rough cut on his laptop instead of in an edit bay. These edits on MPEG-1 proxy copies were then automatically duplicated on the broadcast-quality video stored on the server. We also stored metadata in a SQL server database so content could be searched. The web interfaces were all based on DHTML using the Windows Media Player Active-x component.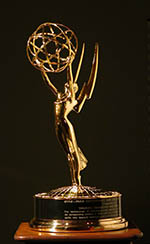 2003 Technical Emmy
At the time, this was new technology, and we were basically the first to solve the problems of web-based video editing and archiving. Our competitor Tektronix developed a partially similar product a year later. I was the product manager and engineering architect for this product, and marketed it to our sales force and customers. It was selected for a 2003 technical Emmy award.
Lossless Audio
Logitech Squeezebox
Product was too early for market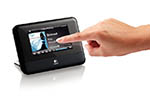 Logitech Squeezebox Touch
In my early years with Fraunhofer, we were pushing technologies to market irrespective of whether there was a market need or not. We had a new version of our AAC codec that was "lossless" - it did only zip-style compression so the audio samples were unmodified - and the file would playback with lossy compression on a regular AAC player like an iPod or iPhone. We placed an article "Throw Away Your CD Collection", since all the information including cover art and more could now be stored digitally with this codec.
One of my tasks was to find a market for this innovation. In 2009, I was able to get Logitech to include it in their latest Squeezebox streaming music player and agree to promote HD-AAC content on their web page. Working with some consultants, I was able to convince a major record label to offer content in HD-AAC, or so I thought. In reality, the top management of labels were not yet comfortable with releasing CD-quality or higher versions of their catalogs, and the deal went nowhere.
My point here is I've had a few failures as well as successes, and sometimes the market is not ready for a technology, no matter how exciting the developers think it is. After this episode, I was able to convince the company to let me offer our staff some training in developing business plans for products. Ten years or so later, high-resolution music is now interesting to the industry. We were simply too early.
Other Stuff
Making product managers out of engineers
Designing a training curriculum
One of the tasks of a good manager or executive is to ensure he has competent people to do the work required. I've worked in several engineering-led organizations where I have had to train engineers to be product managers. My goal in these cases was to make true business owners, not lightweight product managers who are focused on UI details. I have been successful in doing so in two companies, and I've also had cases where people did not really have the temperament needed. In the latter case, such training is still useful to help engineers or technical managers understand the business world.
In Fraunhofer, I developed a small training curriculum for this purpose, and I gave a series of lectures on the basics of product management and business strategy. I have said "There is no degree program I know of that can prepare you to be a product manager, though many MBA courses will be useful." A good introductory book that I generally agree with is "Four Steps to the Epiphany" by Blank. "Product Manager's Desk Reference" is the reference text I have used. Of course, the strategy classics by Porter, Drucker, Christensen, etc. are useful, but are often only abstractly applicable to the day-to-day concerns of a product manager. External training courses can provide a practical introduction to needed skills, and I've used them for sales training, product feature management, customer interviews, and writing business plans.
Making demo content
Learning what Producers do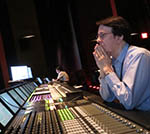 Listening to an MPEG-H mix on a Hollywood dubbing stage. This was the wrong room for the job, but all that was available at the time - "near-field" mix rooms did not really exist yet.
In marketing a new audio codec or system, its often necessary to have content that demonstrates its new features. For example, if it's an immersive system, you need immersive content with sounds from above, or if it's an interactive system, elements that are useful to make interactive. Yet, before the system is introduced, such content doesn't exist.
This has lead to my occasional work as a content producer. I thought my cat-herding skills were reasonably well developed from my days as an engineering manager, but creatives are a different breed. As a producer, you have to manage them while thinking about what content or venue you can access, what elements would best show off your product's features, what is licensable, and what production work will fit in your budget, keeping in mind that the end product might be unusable or not resonate with the audience. Usually, you have incomplete or prototype tools to prepare the production. All these points can make it a challenging diversion from usual work. I've produced content from extreme sports events and a casino prizefight, written and directed a news magazine show, and re-purposed television spots with interactivity. Much of this was used for our 2015 MPEG-H demo at the NAB trade show.